Random quilting adventures
I guess having bipolar shows up in my blogging patterns… sometimes I post a lot, other times I don't, and it's either one or the other. I want to get good about posting, especially with my exciting news coming up (see next post!), so here's a bunch of info on the things I've been working on lately.
Ya know, I've never been good at making up my mind about sewing projects, and this past few weeks has been no exception. I've started and aborted probably three or four projects for Quilts for Kids, since I was at a loss as to what to make for my "test run" for the charity. In the end, I found a nice set of 10″ squares at my LQS, a lovely pattern on Etsy, and spent about eight or nine hours putting this one together. QFK has a particular need for quilts for teenage boys, and I think this one will fit the bill perfectly.
I love the pattern, the execution is great… but there's a bit of a problem. Every 3′ of stitching or so, I got big loops of thread on the backside of my stitching, which is okay until there's any tugging on the seam, in which case you can see a 1″ or so section come loose. Baaaad news if I'm trying to prove that I know my stuff. So I'll have to go back over this with a fine-tooth comb and check the strength of ALL the seams. But after that, I can do a quick meander quilting in beige thread, and it'll be all set to go. I know some guy in the hospital is really going to like this one
In addition to doing some sewing at home, I also got to take a class this past weekend. This was another "mystery" class, and the fabric I had initially picked out was kind of, well, bright.
Very happy, very springlike, very cheerful– and definitely colors that I love! But with any uncertainty about the final design, I decided that it's a risky scheme with the potential to be WAY too busy. So instead, I decided to add this stuff to my stash and make another trip to the store for something a little more sedate. And sedate I was– in fact, I don't think I've EVER picked out a color scheme this calm in my entire quilting career!
That turned out to be a great choice. I have many hours of sewing left to do after Saturday's class, but I think it's going to turn out really well, given the results of this single block. The finished will have very wide pieces of the Asian flower fabric between pieces like this, with little accents of red between the blocks. I think it's going to look great! I think I may end up donating it as a door prize to my 10 year high school reunion, which is happening this summer, so people can at least have SOME fond memory of me back in those days. (Kidding. Mostly.)
In addition to doing quilting, I've also been doing some non-quilt sewing over the past weekend. I found the neatest pattern for a book-style e-reader cover on Etsy that uses only two FQs, so I made one of those as a test run and I love the way it turned out! I had to get a bit creative because it was designed for something a little bigger than my little Kobo, but I think it still works just fine.
I'm making at least one more, with a "Day of the Dead" skull theme for a friend from college, and I'm going to see if any other Facebook friends are interested, since I have enough of the batting/stabilizer/Peltex/etc. to make two or three more at hardly any additional cost. Since they only take about four hours to put together, I'll probably make a few extras and stick them up on Etsy; I imagine people would be willing to pay $25ish for one of these, since a boring old plain one at the bookstore is $30+!
Also on my plate are a set of throw pillows for my parents' living room. My mom picked out three pieces of batik fabric in tan, sage, and eggplant, and I'm going to use them to make a set of four 18″ throw pillow covers. I'm thinking of practicing my paper-piecing skills and using this block design, courtesy of Quilter's Cache: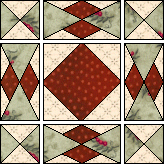 I think that should cover everything that's sitting around finished or in-progress for the time being, so I feel "all caught up" on that front right now. Huzzah!